Carpet cleaning is more than just removing dirt and stains; it is a way to keep your house clean while also extending and improving the life and performance of the carpet. Most individuals believe that they only need to clean their carpet when they discover visible stains. This is not correct. Carpets should be cleaned every 12 to 18 months. Furthermore, depending on your carpet's warranty information, it may necessitate more frequent cleanings. In this blog, we will discuss What is the Best Method of Cleaning Carpets? There are several methods for cleaning your carpet, and each approach has advantages and downsides. So, how do you choose the finest solution for your carpet? Here's an overview of each approach, along with their benefits and drawbacks, to help you choose one before your next cleaning.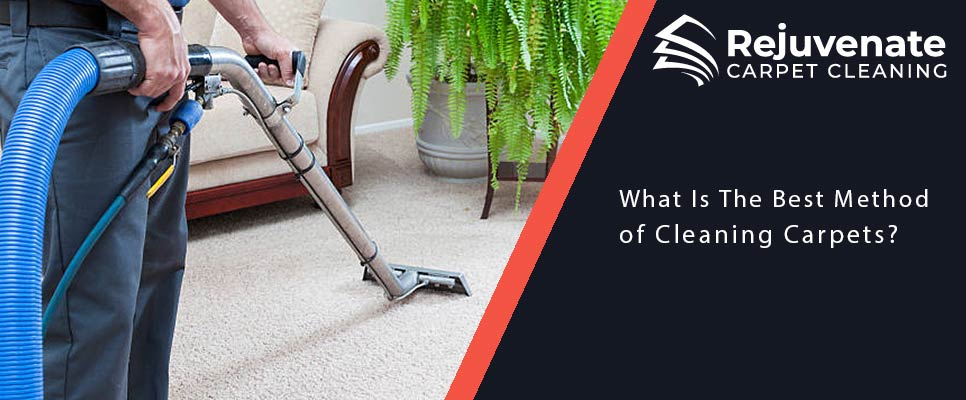 Know Carpet Dry Cleaning
Carpet dry cleaning is commonly referred to as surface cleaning, even though it does utilise some water. This is a practical cleaning solution for high-traffic areas that require quick drying. Dry carpet cleaning is also the only way to deal with jute, coir, or seagrass carpeting. Because these carpets are prone to fibre destruction, colour loss, and shrinking when wet, they should never be cleaned with a liquid saturation technique.
Pros
Cleaning system that is simple and does not require any particular technical knowledge.
The carpet dries rapidly, with the entire procedure taking around twenty minutes before you can use it again.
It is an affordable cleaning technique, a quick, and easy approach to apply and utilize.
Cons
The powder should not be vacuumed out completely and should be left in the flooring to build up over time.
The powder can cause dust to accumulate in your home.
Cannot clean deep into the carpet.
Understand Wet Cleaning
Wet cleaning, commonly known as steam cleaning, includes hot water extraction and shampooing. The first step is to shampoo the carpet using a pre-conditioning shampoo.
Carpet Steam Cleaning: This is the most prevalent professional carpet cleaning process, often known as hot water extraction(steam cleaning). Steam cleaning can take up to an hour to clean an ordinary home and twice that time to dry the carpet. A steam cleaner emits a mist of steam onto the carpet, which aids in dirt removal. However, dirt is difficult to remove from soft surfaces such as carpets. Steam carpet cleaning works well on hard surfaces and may be appropriate for a quick refresh for lightly soiled carpets, and you don't want to end up with light steam if you've paid for a complete hot water extraction clean. Also, read the benefits of carpet steam cleaning.
Carpet Shampooing: The majority of consumers who request this method genuinely desire hot water extraction. You should also read how often you should shampoo your carpet. Ordinary carpet shampooing doesn't have the same impact as hot water extraction since it involves rotating brushes, which may harm the carpet fibres and leave a residue on the carpet if not done effectively.
Pros
Is capable of extracting soil from deep within the carpet.
Use high pressure, extreme temperatures, and chemical concentrations.
Allows the cleaning solvent to react over a longer period.
The use of an extraction brush or grooming instrument aids in the stimulation of chemical reactivity.
The most usual carpet cleaning method.
Carpet manufacturers, specialists, and cleaning professionals all recommend it for annual carpet maintenance.
Cons
It takes time to dry, but some skilled professionals can speed up the process by using powerful machinery.
Maximum efficiency is usually only possible with pricey equipment.
Is more costly than alternative procedures.
DIY Carpet Cleaning
You might have seen the carpet cleaning equipment available for rent in supermarkets and hardware stores, as well as the numerous steam cleaning machines accessible at department stores. However, this is not the kind of machine that can thoroughly clean your entire carpet but you can use them for DIY cleaning. Other aspects to consider before cleaning your carpet yourself are how much cleaner you will need to add to the machine and what type of technique you will use to move the machine over the carpet. All of these factors can lead to mistakes when cleaning a carpet on your own.
Pros
Saves money in the beginning.
You have complete control over the cleaning process and which areas are cleaned.
You are not required to make a time slot and can work on your schedule.
Stain and spot remover products of your choice.
Cons
Because you don't have the same power as a professional, you won't get as thorough a clean.
When using a DIY machine, the water will not reach as hot as the high temperatures of a professional machine, which is one of the conditions for efficient cleaning.
Furthermore, because this sort of machine lacks the force of a professional machine, it cannot extract as much water and dirt from the carpet.
Self-treated stained patches are likely to reappear.
What Is The Opinion Of The Professionals About The Best Carpet Cleaning Method?
The best carpet cleaning method may depend on factors such as the carpet type, level of soiling, specific stains, and personal preferences. It is advisable to consult with professional carpet cleaners who can assess your specific needs and recommend the most suitable method for your carpets.
Conclusion
We hope this blog is informative for you, and that you understand What is the Best Method of Cleaning Carpets? Since your carpet is often the first thing people notice when they enter your house or workplace, it must be kept clean. It is up to you whether you choose a professional dry or wet cleaner or clean the carpet yourself, but always do your research on the firm you choose. When you've found the finest carpet cleaning procedure for you and your house, you can relax and enjoy your clean carpet while also helping to maintain and prolong its lifespan.